Date: 07.01.12
Author: SageMyNest
Title: About Sage Burning Ceremonies



About Ritual Sage Cleansing

Sage is a magnificent herb, held sacred by various Native American cultures. It is thought to have restorative powers and encourage positive energy flow. Burning sage, also called sage 'smudging', is a ritual conducted to restore balance, cleanse, and purify a space. Now you can put this powerful herb to use in your own home in a traditional 'Sage Smudging Ceremony'. Anyone can do it!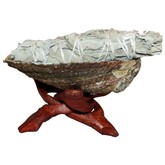 Sage Cleansing In The News:
Smudge Your House To Help Sell It - Article
New York Times Reports on Sage Smudging - Article
New York News Report (Video): Smudging Away The Negative Energy: Report On Sage Smudging (Note the $700 Price Tag!):
Restore The Positive Energy In Your Home